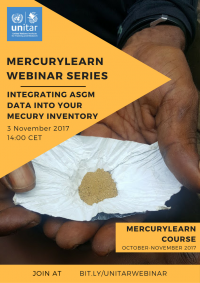 MercuryLearn is an online training platform to assist you in developing a comprehensive inventory on mercury releases and emissions, using the standardized methodology and database provided by the UN Environment Toolkit.
UNITAR is pleased to welcome you to participate in the second MercuryLearn webinar 'Integrating ASGM data into your mercury inventory' on Friday 3 November at 14:00 Geneva time (CET). The webinar is in English, and will last approximately one hour.
Below you can find a link to join the webinar. Please note that the link will become active approximately one hour before the scheduled time. Attached you can find general instructions for joining the webinar as well as an invitation letter. In further technical questions, please contact my colleague Ms. Ester Hermosilla (ester.hermosilla@unitar.org).
Trouble Joining? Try Skype Web App
---