From 13 to 16 March 2017, UNITAR and Artisanal Gold Council's (AGC) trainers were in Sierra Leone to train national researchers hired by EPA-SL about developing baseline estimates of mercury use and investigating socio-economic and health aspects of the ASGM sector. The training involved in-office training in Freetown as well as training in collecting data in a mine site in Bo district.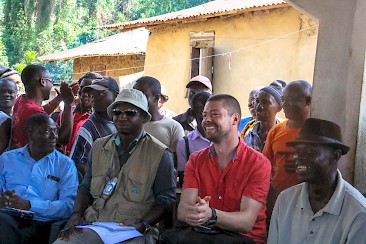 The Minamata Initial Assessment (MIA) aims to strengthen national decision-making and build national capacity towards the ratification of the Minamata Convention on Mercury and the implementation of future obligations respectively. The MIA project provides an opportunity for a country to undertake several activities including:
Mercury inventory
Identification and approval upon measures it will take to implement the Convention
Estimate associated costs
Communicate this information in a course and clear manner
The National Action Plan (NAP), which is for the "Artisanal and Small-scale Gold Mining" (ASGM) sector, constitutes an obligation under Article 7 of the Minamata Convention on Mercury for each country that has more than insignificant ASGM activity within its territory.
According to the Minamata Convention, the content of the NAP includes the following:
Strategies to eliminate work practices and promote mercury-free methods
Steps to facilitate the formalization or regulation
Baseline estimates of the quantities of mercury used and practices employed
Strategies for managing trade and preventing the diversion of mercury
Strategies for providing information to ASGM affected communities
A public health strategy on the exposure of miners and their communities to mercury
Strategies to prevent the exposure of vulnerable populations
Strategies for mercury-free ASGM and market-based mechanisms or marketing tools
Training objectives
Explain the objectives and the general approach of the ASGM field study
Enhance researchers' understanding of the methodology for developing baseline estimates
Enhance researchers' understanding of qualitative field research and socio-economic aspects fo the ASGM sector
Inform the national research methodology
Draft project activity plans
Target Audience
National researchers hired by EPA-SL, with expertise in different domains
Other staff from EPA-SL
Outcomes
Data collection techniques improved
Data analyses techniques improved
Preliminary site baseline estimates developped
Socio-economic data coded and analyzed
Workplan developped